Breaking Up the Canadian Air Cartel – A Big Win for Investors
January 5, 2018
Canadians have a long history of being too nice.
It's even become a running joke in Hollywood and the mainstream media. Canadians are too nice, too friendly, and apologize way too much.
For a long time, Canadians were too nice to what I call the "Canadian Air Cartel"… the two large airlines that dominate the Canadian air travel market. Together these two large airlines – Air Canada and WestJet – have prevented companies like Ryanair, JetBlue, Spirit, and Southwest Airlines, and other startups from offering low-cost air travel around Canada.
Only in Canada do air travelers get steamrolled with exceptionally high airfares. Frequent Vancouver to Toronto travelers see prices reaching $1,000 per return ticket. In comparison, a flight from Vancouver to London, England might only cost $499 on the return.
The big airlines point to fuel costs, taxes, levies and airport surcharges for higher fares. But the reality is that the big two Canadian airlines have bloated, high-cost structures.
The airline industry uses a term called Cost per Available Seat Mile (CASM) to measure operating costs. For example, Air Canada has a CASM of 14.1 cents while WestJet had 12.96 cents for the first nine months of 2017.
The introduction of low-cost carriers in other countries has made air travel possible for hundreds of millions of people around the world. It has given people a huge range of choices.
By comparison, the CASM for Ultra-Low-Cost Carriers (ULCCs) is much lower. In Europe, Ryan Air had a CASM of 7.52 cents and WizzAir had a CASM of 7.27 cents in 2017.
Despite all this, Canada is one of the only first world countries that does not have ultra-low-cost airline service. In Canada, Air Canada and WestJet together control approximately 80% of the domestic market.
Together, these two giants have gouged Canadian travelers for years… and used their political clout to unfairly limit competition.
Take a look at how many Ultra-Low-Cost Carriers there are in the world and how many passengers they serve (PAX), with none in Canada…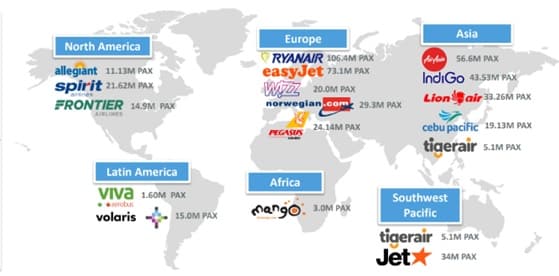 SOURCE: Canada Jetlines investor presentation
One of Canada's two dominant airlines, WestJet, recently revealed plans to make big waves in the Canadian airline industry with its new Ultra-Low-Cost Carrier airline, Swoop, next June. But I see this ploy as another vehicle where WestJet wants to continue the status quo and maintain its duopoly.
But the time for being too nice to the Canadian Air Cartel has come to an end. The Canadian people have spoken, and they want an ultra-low-cost airline just like every other major Western Country. They want discounted airfare, and they don't mind flying from smaller airports to get it.
And if you paid attention in Katusa's Investment Insights, you could've made almost 3x your money (around 320% profit).
Just over a year ago in this missive, I wrote about a company called Canada Jetlines (JET.V) that was set to go public.
Canada Jetlines' aim was to become Canada's first and best low-cost airline. For full disclosure, I was an early investor in the company, and back when it was a concept, I believed the business had huge potential. In my original article from December 2016 right here, I alerted Katusa's Investment Insights readers about the company and the speculation. I said …
Canada is a huge, geographically diverse country. It's a leader in banking, resources, and manufacturing. Its citizens are among the most educated in the world.
We deserve to have affordable air travel that will connect us to each other, enhance our national unity, and benefit our families and businesses alike. There is a clear-cut need waiting to be filled here.
Canada Jetline's management team, led by Mark Morabito, saw a large market with a huge unmet need. They raised money from investors and began fighting the Canadian Air Cartel.
After the company went public in early March, savvy investors could've picked up shares for under 25 cents.
On Wednesday this week, those same shares traded heavy volume at around $1.05.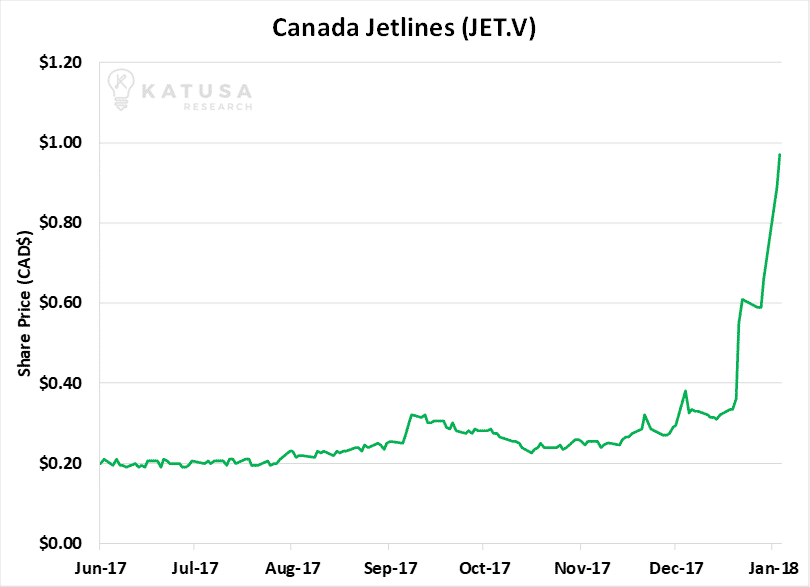 The company hopes to be flying in the skies as early as summer 2018, serving six Canadian cities.
So What Changed?
My speculation started to come to fruition thanks in part to Katusa Research readers.
Under the Canada Transportation Act, foreign ownership of an airline is restricted to 25% of voting equity. While the legislation—enacted in order to keep control of Canadian companies firmly in Canadian hands—is well-intentioned, it placed a serious roadblock in the path of those who must cast their fundraising net farther and wider.
With help from my open letter to readers to break up the Canadian Air Cartel and allow the market to dictate flights and rates, the Canadian Federal Government relaxed one of the biggest hurdles in getting an ULCC off the ground.
The government was finally fully aware of this dilemma and thankfully made a smart decision.
Recently, a motion was passed by the Canadian Parliament which allowed for 49% foreign ownership of an airline. That will open up the market to vast new sources of capital while ensuring that the ultimate control of a company remains with Canadians. Two companies have already received this permission, one of which is Canada Jetlines.
This near doubling of foreign share ownership is crucial for a start-up airline to raise enough money to compete against the duopoly. Having plenty of working cash and access to capital is critical for taking on two giant companies with almost the entire domestic market in their hands.
What to Expect
With ULCCs on the horizon in Canadian skies, air travelers can expect much more competitive fares. Canada Jetlines says it will launch with $10 flights for the first 1,000 tickets it sells. And it looks to sell base fares for less than the cost of running shoes (about $100).
Lower operating costs mean ULCCs have a very profitable model. Being smaller outfits that run tighter ships, they're able to keep costs under control and keep their key metric – the CASM – low. They fly to smaller airports on the outskirts of major cities, with much lower fees, have only one class of seats, and one type of aircraft. At the end of the day, they're able to take all this and sell fares for significantly lower prices and turn higher profits than major airlines.
Katusa Readers Strike Again
Again, congratulations to all readers that scored a big win with Canada Jetlines. I saw many, many emails where Katusa Research was cc'd in your letters to government officials. It proves yet again what strong and savvy subscribers we have, who I'm very grateful to have on board.
Although not a resource company, Canada Jetlines is a prime example of how being "In the Room, In the Deal" is very important in small-cap stocks.
Because of the tremendous opportunities I see in many sectors in and outside of natural resources, I've recently hired a team of wizard mathematicians and created a new Special Situations team.
This team has worked under me in the past for five years, creating proprietary data models and trading systems. They went on to work at major brokerage houses and firms, becoming millionaires very early on.
Since they are the best of the best, I wanted them back in my inner circle to bring my subscribers incredible investment opportunities they wouldn't see anywhere else. And we are adding a whole new feature to Katusa's Resource Opportunities – and you won't want to miss out on it.
Special Situations is where all aspects of the junior and small-cap market will be covered. Everything from blockchain, cryptocurrencies, airlines and anything in between.
Don't worry, my team is still laser-focused on finding the best and biggest potential returns in natural resources. But we are adding brilliant minds and systems to provide all the best market ideas in one spot.
Regards,
Marin
P.S. Two days ago we released the January issue of Katusa's Resource Opportunities with a brand-new investment recommendation. This company has a dominant global reach in the industrial metals market. We also feature a Special Situations segment that details the profitability of bitcoin mining and a breakdown of the companies involved. You don't want to miss this month's action-packed issue. Click here to learn how to come on board as a subscriber.
Disclosures and Disclaimers
Readers are advised that the material contained above is solely for informational purposes. This article does not give or constitute investment advice or instruction. Readers are encouraged to conduct their own research and due diligence and to obtain professional investment advice. The information featured above is from sources believed to be accurate, news filings and press filings. The writers, owners and editors are not responsible for any errors and omissions. Marin Katusa, Katusa Research Inc. ("Katusa Research"), New Era Publishing Inc. ("New Era") and/or the other principals, partners, directors and officers of Katusa Research or New Era (the "Katusa Research Team") own securities positions in the following companies mentioned above: JET. Additionally, members of the Katusa Research Team currently intend to acquire or sell securities in the following companies mentioned above: JET. No members of the Katusa Research Team have received any commission or other compensation to feature any company mentioned in this newsletter nor are they party to any financial arrangement regarding the securities of such companies or any person who has any interest in such securities.
The information contained in this publication is not intended and does not constitute individual investment advice and is not designed to meet your personal financial or investment situation or needs. Neither Marin Katusa nor Katusa Research are registered broker-dealers or financial advisors. Never make an investment based solely on what you read in an online newsletter, including this newsletter, especially if the investment involves a small, thinly-traded company that is not well known. Past performance is not indicative of future results. You should independently investigate and fully understand all risks before investing. When investing in speculative stocks, it is possible to lose your entire investment. The information contained in such publications is obtained from public sources believed to be reliable, but its accuracy cannot be guaranteed. Further, the views expressed herein are of Katusa Research as of the date hereof, are subject to change and the Katusa Research Team does not undertake any obligation to update such information or views. None of the members of the Katusa Research Team shall be liable for any damages, losses, or costs of any kind or type arising out of or in any way connected with the use of this newsletter. The information in this publication reflects the current opinion of the publisher, is subject to change, and may become outdated. The publisher undertakes no obligation to update any such information.
Unauthorized Disclosure Prohibited. The information provided in this publication is private, privileged, and confidential information, licensed for your sole individual use as a subscriber. Katusa Research reserves all rights to the content of this publication and related materials. Forwarding, copying, disseminating, or distributing this report in whole or in part, including substantial quotation of any portion the publication or any release of specific investment recommendations, is strictly prohibited.
Click the link to review the detailed Terms and Conditions.