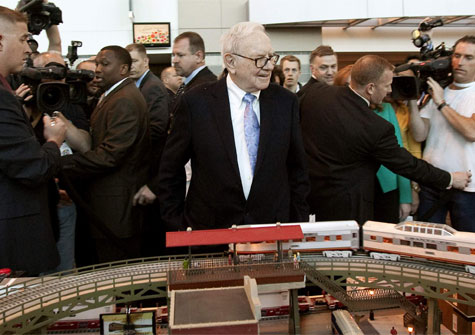 Last Updated on
For those of you who did not get a chance to read the 395-page US Department of Transportation (DOT) ruling over the past weekend like I did, then this is a must read. No, not because yet another BNSF (yes, the BNSF owned by Warren Buffett's BH) train derailed last week. But because there are serious changes coming.
Changes the astute railroad investor should be paying attention too.
The DOT legislation mandates several new crucial safety standards and operational controls that need to be implemented for all tankers carrying crude oil and ethanol. This directly impacts every single company that manufactures or builds parts for tanker cars, along with all 250,000 cars used in rail transportation of crude oil and other highly flammable liquids. Over 68% of the flammable liquids carried everyday by trains across the US stems from crude oil or ethanol production, normally carried in what's known as a HHFT (High-Hazard Flammable Train).
Over the past 5 years the US has seen its shale oil and gas production grow exponentially. Getting it out of the ground is only one half of the equation, though. The 2nd half needs to solve the question "ok now it's out of the ground, how do I get it from A to B". For decades crude has been moved along pipelines that crisscross thousands of miles across the United States. As shale oil production increased, pipelines couldn't be added fast enough and rail began to gain a foothold in the transportation market for oil.
Unfortunately the growth in transportation of crude by rail has come at price.
From 2006 to April 2014, there were 16 high-profile accidents involving "high-hazard" trains carrying crude or ethanol, according to the US National Transportation Safety Board. In all, 281 tank cars have derailed, spilling nearly 5 million gallons of crude or ethanol. We are not talking a bonfire with marshmallows here, we are talking full on blazes that have the ability to easily burn down a town or development area.
The image above is a shot of the train derailment that killed 47 people two years ago in Quebec.
There are two important standouts in the DOT ruling.
First, the adoption of thicker walls on the tankers. Thicker walls on the crude tankers are harder to puncture and thus should decrease the likelihood of a spill if a train derails.
The second takes the form of enhanced braking requirements, which means trains must travel slower through urban areas (30mph-40mph depending on train length and car type) and at a maximum speed of 50-mph outside of urban areas.
Overhauling the system is not an overnight procedure, as much as everyone involved would like it to be. The capacity simply isn't there to handle it. As you will see below, this will be a long, time-consuming process. The DOT-111 car can be considered the industry standard, with the bulk of the cars being built under old compliance rules.
Tackling the first issue of shell thickness requires that manufacturers either retrofit or build new cars that conform to the new standards. The shell must be 9 ¼ inches thick. The retrofit option is estimated to cost between $25,000 and $40,000 per tanker car, while adapting new standards will increase the price of a new build by $5,000 (while new build cars are built on an undisclosed contract price, the average selling price for Greenbrier new builds was approximately $100,000 in Q1 2015). So retrofitting is still a significantly cheaper option.
The bulk of the retrofitting needs to be done by March 2018, which sounds like a lot of time but it's not. Rail manufacturers already have a significant multi-year backlog of train cars to build, let alone deal with potentially several hundred thousand retrofits.
The VP of the American Fuel and Petrochemical Manufactures stated that "this aggressive retrofit schedule is unrealistic and may be disruptive to transporting crude oil to markets across the country". Interpreting the statement as an investor and hedge fund manager, "disrupting the transportation of crude" to me means that there will be less tanker cars available for transporting crude, which will cause areas that do not have takeaway capacity by pipeline to accept a lower realized price for crude. The losers being the E&Ps, with the main benefactor being the refiners as they will get cheaper crude. Naturally the rail manufacturers also benefit, as they are literally being handed revenue by this new legislation.
The second major takeaway from the new legislation is on train speed and enhanced braking. Any HHFT loaded with 70 or more cars travelling at 30+mph is required to have a new brake system called ECP, which is an electronically controlled braking system. This limiting of the speed of trains within urban areas, added to elimination of trains that do not have all cars up to the new standard, is going to impact the movement of crude significantly.
The industry standard DOT-111 rail car can carry between 475-715 barrels (20,000 and 30,000 gallons). Consider a hypothetical example where a HHFT has a contract to transport crude oil from the Bakken down to Cushing. Assuming nothing else changes except for speed, the train will arrive a few hours or maybe at worst a day later when speed is reduced. However as you reduce speed, this means that less oil is getting to the refinery on a per day basis. Since refineries require continuous inputs of crude, delays are not an option. The only option to keep the same level of inputs per day is to increase the number of cars per train to make up for the lag in arrival time. More trains on the rails at a time will add further to congestion.
Government policy always provides interesting wrinkles. In a case like this, where companies are forced to abide by the new policy, it creates distinct winners and losers as a side effect.
Trinity Industries looks cheap from a cash flow and earnings perspective but they are amidst some serious legal battles with the government over guardrail testing. Management believed they had passed all the required testing however the government thinks otherwise. Until this is cleared up and the class action suits are dropped, best to steer clear.
Greenbrier (GBX) trades at slightly more expensive metrics than the peer group but has better ROE and ROICs than its competitors. What is particularly odd—and no one seems to be talking about it—is the enormous short float in GBX. The current short float is above 30%, which would be extremely high in any industry, let alone one that is considered relatively stable like rail. Greenbrier's new crude carrying tanker complies with all new DOT regulations, which would be the only real cause for such a high short float percentage. Barring a complete meltdown in the crude markets, or GBX losing their entire revenue backlog over the next year the shorters in GBX have significant potential to be rolled up.
The change for the rail sector is not going to have an immediate overnight impact on the cash flows of both winners and losers. Companies have several years to comply fully with the regulations. The majority of the retrofitting needs to be done by Q1 2018, while braking compliance will take up to 2021.
The multi-day fire caused by the CSX derailment earlier this year, demonstrates that even with new thicker shelled cars we are not out of the woods. Not only were the cars that derailed and exploded made with the new 9¼ inch shell, but they were also only going 33-mph, which is slower than the new mandate.
Clearly the changes aren't enough.
The oil by rail risk is nothing new for me. For years, I've been talking about the risks, and was even asked to debate the cofounder of Greenpeace, in a debate called 'Debate: Greenpeace vs. Marin Katusa on Northern Gateway Pipeline'
Watch Video
In the debate, I brought up the risks of shipping oil via rail, 6 months before the horrific disaster in Quebec in the summer of 2013 that I pictured above that took 47 innocent lives.
I like and respect Rex Weyler one of the cofounders of Greenpeace. We had a good time together after the debate, and it's fair to say he liked my straight up, old school style of no nonsense and no bullshit. I showed up to the debate with facts and industry experience. Watch the debate, and sadly, it has played out as I stated. Hopefully the politicians will figure this out before more deaths occur from shipping oil via rail.