Last Updated on
On Saturday, October 22nd, 2016, eager fans packed New York's legendary Madison Square Garden to watch one of the most anticipated sporting events of the year. The same happened again in 2017 in Beijing to a sold-out arena of 80,000 in attendance with another 58 million viewers watching the live broadcast online.
These sold-out shows featured athletes that earned millions of dollars a year performing for their fans. The crowds cheered on their favorite players for hours.
Unlike the typical sold-out sporting events at Madison Square Garden, this one had no basketballs, boxing gloves, or hockey pucks. All those fans packed the iconic arena to watch people play video games. Specifically, a game called "League of Legends," in which players fight each other in a virtual arena.
And if you are wondering, the rink rats (a.k.a. groupies) showed up too!
Not many people over the age of 50 know about League of Legends (abbreviated as LoL), but it is a true global entertainment phenomenon. LoL is the most widely played video game in the world. The game's creator, Riot Games, reported that the game had around 100 million monthly players near the end of 2016. That amount of people is roughly one-third the population of the United States.
In addition to playing the game, LoL enthusiasts love to watch elite players compete against each other at live events like the one held in Madison Square Garden. Think of this as the new world of weekend beer-league softball players going to watch major league baseball games.
And while the average 50-year old isn't going to see live video game competitions, a gigantic and growing amount of young people are: Mainly, the Millennials.
Furthermore, much like with traditional televised events like the Super Bowl, video game enthusiasts don't even need to be attending in person for companies to profit off their viewership, thanks to streaming platforms like Twitch.
So how many people actually watch these events? A shocking number.
Viewer counts for last year's LoL World Championship Finals matched that of last year's World Series, NBA Finals, and Stanley Cup Finals – combined.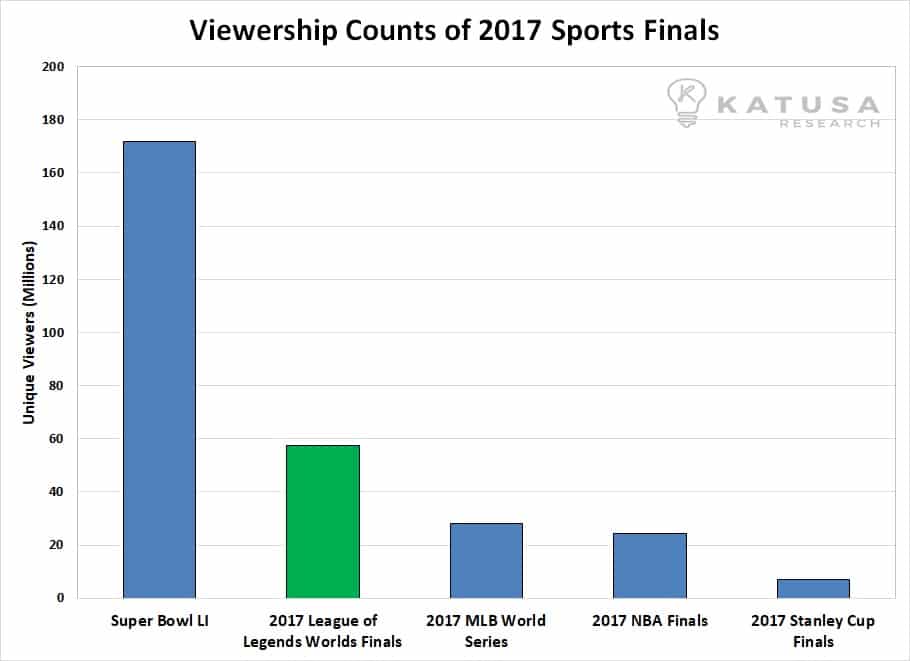 In comparison, the mega-hit HBO show Game of Thrones boasted viewership of just 16.5 million people for the finale of its season 7 finale. Note that this was a record for HBO.
These numbers may seem bizarre and inexplicable to you, but they all point towards an inescapable conclusion – eSports is rapidly catching up with and even displacing, traditional sports.
I'll show you how this is happening and why you should pay attention.
The Demographic Shift No One Is Talking About
There is a complete bias in the current financial paradigm focusing on the economic impact of the baby boomers. The bias comes from the status quo of the boomers being the driving force for the economy for the last few decades. But that is no longer the case.
Millennials (those born between 1982-2004) are the generation that you should be paying attention to.
Here's an interesting fact: Millennials (75 million) have surpassed baby boomers (74 million) in total population for the first time ever in the US this past year.
Unlike the boomers who are phasing out their spending (other than medical, travel and funeral costs), there will major changes to the economy because of the Millennials.
And there will also be vast social reforms because the Millennials are now coming into their age of prominence.
I see it in my own office.
I've had an interesting changing of the guard experience. For the first 10-12 years of my career, I was the "young gun" in the resource sector. Now, I am one of the largest financiers in the industry with very different views on how and where the mining sector should go compared to my senior colleagues in the industry who were my mentors. I've always been a proponent of bringing new technology to old sectors, but time moves on and I am no longer the "young gun".
For example, I am the oldest person in my own firm.
Everyone else is a Millennial.
And the bias that Millennials are not as disciplined or hard working as previous generations is complete nonsense. I would argue that baby boomers have actually prevented growth in many areas of the economy, specifically in the resource sector. But I'll leave this debate for another day.
I am using eSports as one example of introducing you to a vast industry impacted by Millennials that most resource speculators probably don't even know exists.
Millennials Are Different…
One example of generational differences is the amount of time now spent online and "living" online. When I grew up, all the neighborhood kids would get together and play a pick-up game of street hockey, soccer, basketball or cops, and robbers.
Millennials are different.
For example, last year, over 40% of the U.S. population reported playing at least 3 hours of video games a week. A majority of this number is made up of Millennials.
And while the popular appeal of gaming has reached even the aging baby boomer generation, the majority of gaming's growth has been generated by the Millennials.
Now, consider that 72% of all teenagers count themselves as gamers. In the chart below, you can see the video gamer population broken down into age groups.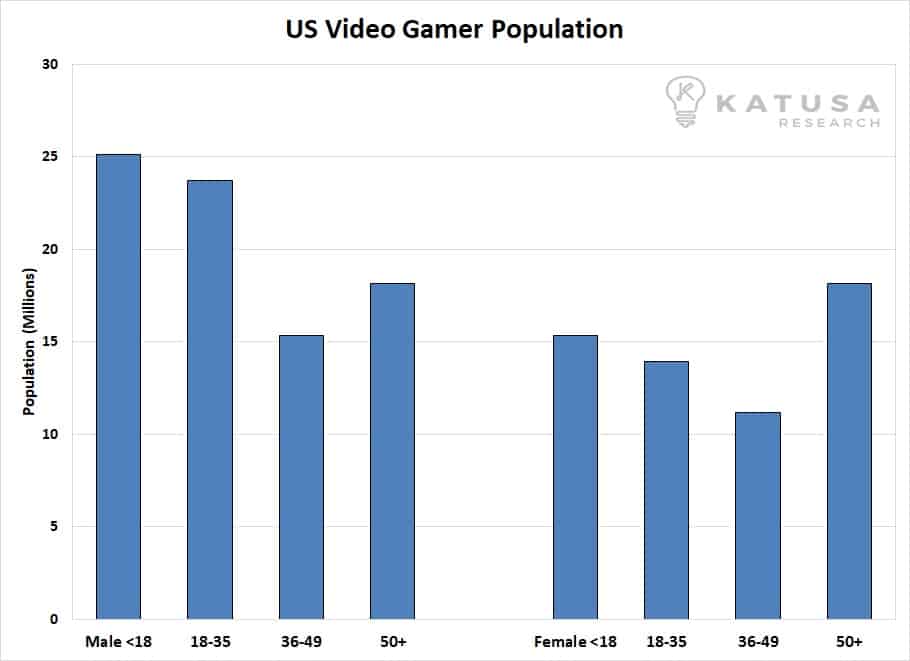 All this has helped turn video gaming into a $109 billion a year industry.
Much of this growth can also be attributed to the evolution of how people play video games. In its infancy (the days of Space Invaders and Pac-Man), arcades were the only place you could find and play video games. You know the type… the large, clunky arcade cabinets the size of refrigerators.
Home consoles and desktop computers were the next ports of call for video games as the shrinking size of electronics and the development of the internet led to increased market penetration for video game companies (think Atari, Sega, and Nintendo that all burst into living rooms in the 1980s).
And while desktop and console game sales still comprise the bulk of the industry, one of the biggest catalysts for the growth of video gaming's popularity has been the advent of the smartphone.
Today, 95% of Americans own a cellphone of some kind. This is compared to 84% of households with a computer at home or 51% of households with a dedicated gaming console. And this statistic is carried most strongly, once again, by the millennials.
Now, a total of 98% of Americans aged 18-24 own a smartphone, as do 97% of those aged 25-34. Gen Xers round out the numbers with 96% ownership among the 35-44 age group. And smartphones play a big factor in the way video games are played today. In the chart below, I'll break down the video games by platform and you'll see that mobile gaming is the dominant way that "kids these days" are playing video games.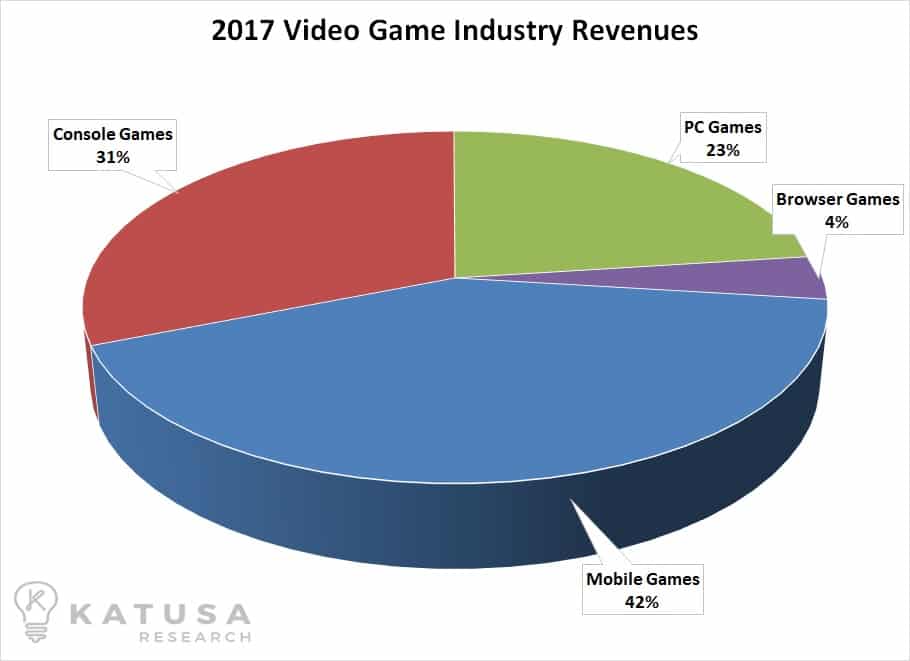 Reaching Billions at a Time
And if you haven't heard of League of Legends, then maybe you've heard of Angry Birds.
Angry Birds was originally released at the end of 2009 as a simple mobile game on Apple's App Store. It has since evolved into a massive franchise, spanning multiple versions of the game for every platform imaginable. Think toys, merchandise, comics, and even its own movie.
But at its core and across its many iterations, Angry Birds is a video game… and one that has seen over 3 billion downloads since its inception. Let that sink in for a moment. The population of the entire world is 7.6 billion.
And that popularity can definitely turn into wins for investors as well.
Nearly a decade ago, the online gaming developer Zynga launched Farmville, a game that was integrated with Facebook. The game attracted 1 million users within 4 days of its launch and peaked at over 80 million monthly active users, while generating $235 million in revenue in its first quarter alone, and $1.14 billion the year it IPO'd. Zynga went public at a valuation of $7 billion in 2011.
That kind of broad appeal combined with Millennials' ongoing obsession with their mobile devices, it should come as no surprise that video games have become mainstream in a big way. And yet, you still don't really hear anyone talking about video games.
But you will soon.
News stations might talk about the latest hot game or app release, and business shows about earnings at big video game companies like Electronic Arts (EA:NASDAQ) or Nintendo (7974:TYO), but for the most part, video games seem to get glossed over by the mass media, as if they were irrelevant.
Millennials are a generation that is now starting to come into their own. They are entering prominent industries and careers, building up their disposable income and even starting to have families. For this generation, video games are a BIG deal.
However, not a lot of companies seem to have caught on just yet.
There's a massive investment opportunity sleeping just beneath the surface of the water here – unseen by most, yet undeniably present.
And my Special Situations team (all are Millennials) and I are looking deep into several opportunities right now. When the time is right to strike, I'm going to tell you exactly how to play it alongside me.
Very important note: Please view our research on the eSports industry as a special bonus. By no means are we changing our stripes.
We are still focused and will continue to focus on natural resource investments. But the way we see it, you come here to read up on great opportunities to build wealth, no matter where we find them. A good example of this was when I was the first to publish a report on the potential of the Canadian UltraLow Cost Carrier airline industry to all readers of Katusa's Investment Insights and specifically stated I bought a large amount of shares in Canada Jetlines (JET.VN). At the time of publication, the stock was trading around CAD$0.20 per share. It recently hit CAD$1.40 per share.
Before I write a cheque into any sector or company, I do very intense, very deep and comprehensive research. I'm sharing an exciting sector with you that I am interested in.
Going forward, I believe Millennials will create incredible business and investment opportunities over the next couple of decades, and eSports is just one of them. I also believe the Millennials will make certain (and formerly) taboo industries such as cannabis, blockchain, and cryptocurrencies a norm.
My personal goal is to become a leader to the Millennials and expose them to the potential of the resource sector and why gold and other metals such as copper, zinc, uranium, and condensates should make up a portion of their portfolio. But I am also learning from the millennials on how technology can improve the resource industry. It's going to be a win-win situation and I am very excited about the future of the resource industry (let's face it, it can't get much worse than it already is!).
Because of the Millennials, certain unknown industries will have the potential to grow 100x from their current size.
Regards,
Marin
P.S. If you know anyone in this picture from a recent pipeline protest, please forward them this report. I used to teach calculus, but it's not difficult for the uninformed protestors to learn about their misguided beliefs. They really need to know that even though they believe they are helping the environment, they are actually putting everyone, including the environment, themselves and all our children at greater risk.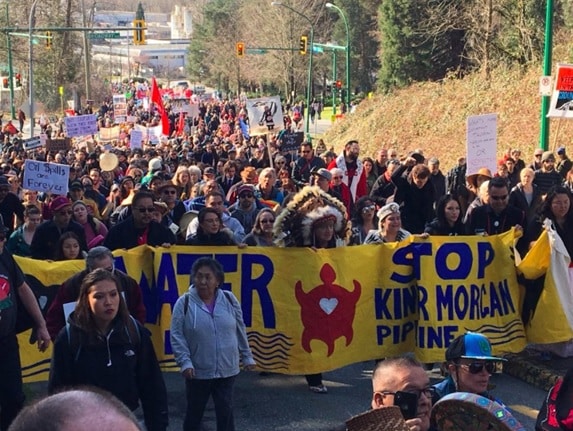 Let me tell you why.
These protestors are trying to prevent the construction of the Kinder Morgan Pipeline, which will take Canadian oil to the west coast for export to Asia.
I truly do understand and appreciate their efforts, but it's misguided. These protestors need to understand that the oil from the Canadian oil sands is finding its way to ports on the western U.S. shores and it's being shipped via rail. Shipping oil by rail increases the risk for oil spills, environmental damage, and more importantly human risk (I stated this years ago when I debated the founder of Greenpeace – you can watch the debate right here– and time has proven I have been spot on).
Anyways, the good folks in the picture are misguided. We need new pipelines that have modern technology, more advanced safety protocols, and modern safety mechanisms in place. As I stated in the interview, unless we build new pipelines, we will continue to depend on existing high-risk infrastructure such as rail (the worst choice for shipping oil) and old pipelines that were built when the baby boomers were still in diapers.
Millennials, educate yourselves properly and stand up for what is logical and correct. Yes, the above statements are all true, check the facts. You can also check out my previous research on oil transported by rail in the following report, "Slow Down the Trains, and Speed up the Profits".
For all of you out there that are against the pipelines, you have a choice: You can either educate yourself properly, or continue to put our environment, water, and human lives at risk. Do I need to remind anyone of the absolutely awful and unacceptable Lac-Mégantic rail disaster which killed 47 innocent civilians?
Hopefully, the Millennials will catch on. I believe they will, with a little help from their friends.