Donald Trump Wants an IQ Test. A Big One is Coming Up
October 13, 2017
***Rex Tillerson, the ex-CEO of ExxonMobil and the now U.S. Secretary of State, has reportedly called Donald Trump a "moron" behind closed doors.
In response, Trump has suggested they take an IQ test and see who is smarter.
In the next four months, Donald Trump will get what he asked for. He will take one of the biggest economic IQ tests of his young presidential career. Will he fail or succeed? The outcome has major implications for solar power in the United States.
In preview, I hope Trump passes this IQ test. I hope he doesn't cater to a small group of weak, uncompetitive U.S. solar panel manufacturers and slap tariffs and trade restrictions on foreign solar panels sold in the U.S.
Over the past 10 years, solar energy use has boomed in the United States. A big driver of this boom is the plummeting cost of solar panels, most of which come from foreign manufacturers. However, a small group of uncompetitive U.S. manufacturers are lobbying the Trump administration very hard to get tariffs and trade restrictions place on the imports. They just might get what they want. And that most definitely would be bad for U.S. jobs and the use of solar energy.
Two companies, Suniva and SolarWorld Americas are leading the trade protection charge. Suniva is bankrupt. SolarWorld Americas' parent company is bankrupt as well. The two firms have brought a case to the U.S. International Trade Commission, asking the Trump administration to make foreign solar panels more expensive to buy in the U.S. The tariffs could double the price of imported cells.
The largest U.S. solar panel manufacturer, First Solar, just came out publicly in support of the proposed legislation. Of course.
Trump has to rule on the proposed tariffs by January at the latest.
***Slapping on these tariffs will create a few more U.S. solar panel manufacturing jobs, but they will hurt the much larger job market in installing solar panels. That's because higher panel costs will make solar energy less attractive to residential and commercial buyers.
Higher panel prices mean higher solar power rates. Profit margins for solar installers are already razor thin. These companies will pass along the cost increases to the consumer. This means the consumer is on the hook. It means more money going to bills and less to discretionary income. It would be essentially a transfer of wealth from regular Americans to the pockets of U.S. solar executives.
It's completely ridiculous to think the U.S. will side with some small crappy solar companies that went bankrupt because they couldn't compete on the world stage.
Ironically, the big winner of this debate is neither the US solar manufacturers nor consumers. The big winners are coal powered plants. This tariff makes solar less competitive, which effectively makes coal more competitive. It would be a complete 180-degree turn in US energy policy.
Donald Trump: I hope you pass this IQ test and don't pass foolish solar legislation that enriches the uncompetitive few at the expense of the many… and at the expense of progress.
This is What a Great Oil Well Looks Like
***On Friday, October 6, 2017, Kelt Exploration, a $1.1 billion Canadian oil and gas producer, drilled a great well right beside Blackbird Energy's land position in Western Canada's Montney Shale.
Regular readers know I'm a huge fan of Montney investment and that I believe Blackbird Energy is the cheapest high-quality junior oil company in North America.
The well Kelt drilled produced 1,567 boe per day and 84% liquids. More impressive was that 71% of the production was oil or condensates. This well has a 100% payback of less than 12 months at current market prices and has a total cost of just under $5.7 million. 
Kelt will be drilling three more in the region adjacent to Blackbird's land by the end of the year. Blackbird's 6-33 well, which is just a few sections to the right of Kelt's well (map is below) in the red circle will be reworked by the end of the year.
Below is Kelt Exploration well circled in red. Kelt Exploration's land is light green and Blackbird's is yellow. You can see that just to the right of Kelt's land are two yellow blocks (sections), which Blackbird owns.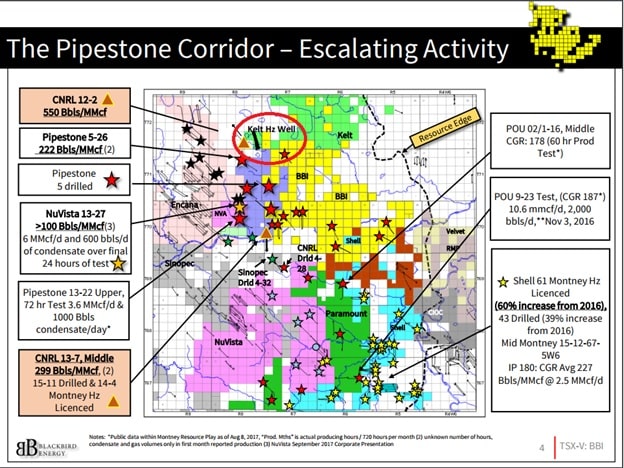 Kelt's success is important to Blackbird for two main reasons. The successful well that Kelt drilled (that I circled in red above) is very close to the yellow blocks (each block is a section of land) which Blackbird owns. This successful well will help delineate further land adjacent which will benefit the re-reserve report Blackbird will have to do next year.
***Secondly, in addition to the successful Kelt well just drilled, we will learn the results of three more wells in the area by Kelt and one by Blackbird by year end that will help increase confidence in the area, not including the other wells being drilled by other operators within the region.  If successful (and if the four wells coming by year-end are anything like the first well by Kelt, they will be), these results will most likely lead to further increases in the delineation of the resource valuation of the land. 
Why?  Sproule Associates Limited ("Sproule") are the engineers that Kelt Exploration's used for their third-party independent Reserve Report. Blackbird uses McDaniel & Associates. Both firms use very similar techniques to evaluate their clients' land holdings. But what both firms will agree upon is more drilling will help to delineate more land with a higher a confidence. 
I believe the successful well Kelt just announced will be the first of many for this specific region of the Pipestone Montney and I expect positive results from Blackbird in the coming months, which should increase the share price of Blackbird.
Pareto Securities, a large European institution just published a very bullish report on Blackbird with a target price of CAD$1.10 per share. This is the first major European institutional report published on Blackbird that we are aware of.
Conclusion: Kelt's news is very bullish for Blackbird.  Hold your shares, as I think we are going on one hell of a ride over the next 90 days with Blackbird stock.
Regards,
Marin