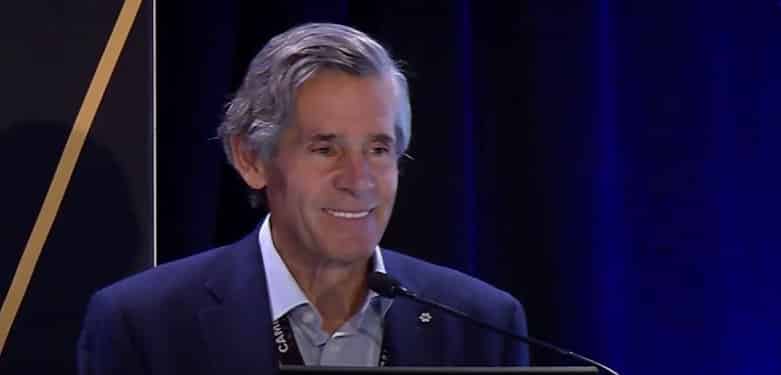 Yesterday, you received Part 1 of our Q&A with Rob McEwen. Below is the second part of the interview series with one of the world's best dealmakers.
Marin Katusa: Wouldn't you agree that you and I have co-invested in early-stage companies where we were backing a smart management team via private placements because we couldn't get the allocation size in the open markets?
Rob McEwen: Absolutely.
Marin Katusa: What percentage of Rob McEwen now – not any of the companies that you're involved with, but just Rob McEwen the speculator or the gold investor – would you say is in private placements versus open-market buying. Would you say well over 90 percent in private placements?
Rob McEwen: Yes.
Marin Katusa: Can you name some industry names that you will invest in, someone that we both respect? Think of Pat DiCapo, who has a long track record of success and always has his nose to the ground and is involved early stage with great teams. What other names would you put up there that you really like? The people that you follow and you're willing to have them come into your office, pitch their idea and Rob McEwen will write a cheque?
Rob McEwen: Well I won't say every time that someone I know and respect who comes into my office that I write a cheque for them.
Marin Katusa: Definitely not.
Rob McEwen: I will certainly listen to as many stories as possible. Because I never know when someone is going to walk in with a story that strikes me as one that I have to own. There are players out there that bring good stories. I'd say, I do not want to restrict it to one person or small group of people because it's just the nature of the business. You just need to have a large flow of ideas coming at you and you filter them and say those work and the other ones, well, I'll watch.
Marin Katusa: Are there any analysts or investment bankers that you think people should pay attention to?
Rob McEwen: Pat DiCapo certainly has got a strong track record. I've had my head down a lot lately just concentrating on our own situation, so I don't have any that come to mind right now.
Marin Katusa: During the November 2015 San Francisco Silver and Gold Summit, when we featured you and McEwen Mining and you were up on the stage that Cambridge House and Katusa Research co-hosted, you and I did a gold Q&A…our subscribers made multiples off your stock in a very short while. You stated that we were at the bottom of the market. It was exactly the theme that Ross Beaty was saying at the time. Your stock ran before most of the others did, and then it was a +500% win.
You've invested over $100 million into McEwen Mining personally. I stated this fact on stage at the 2015 San Francisco Cambridge-Katusa Conference– that you invested more into the company than the entire market cap of the company at the time, as I believed that alone was a good indicator that we were close to the bottom in gold.
For the benefit of my readers, can you name three other junior stocks that you've invested in personally, that you think the retail or institutional audience should take a look at? Stocks that may not be well known but ones that you invested your own money into and that you think have significant potential?
Rob McEwen: Well, back then I suggested a company called GoldQuest, which has property in the Dominican Republic. Agnico Eagle just bought 15 percent of GoldQuest. Pure Gold is in Red Lake working the old Madsen mine, and they think they have a folded structure that might host the same as the Madsen mine hosted in the past – about three million ounces of gold.
Marin Katusa: That's a Mark O'Dea's company. He is definitely someone people should be watching. I think he is a very, very bright mining executive who I think will be a serious mover and shaker in the mining industry moving forward; and he is a young guy – he's not even 50.
Rob McEwen: And he won second place in the Goldcorp Challenge back in 2001.
Marin Katusa: That's correct.
Rob McEwen: Another company called White Gold is a fascinating story because what Shawn Ryan has done there is just brilliant and very strategic.
Marin Katusa: Here is an example of a very smart prospector, Shawn Ryan, teaming up with one of the most powerful mining financiers in the industry, Pat DiCapo. Together, they have built up an incredible land position that has district scale. Agnico just invested in the company, and it has incredible potential. Pat DiCapo is someone I've been watching for years. I know most if not all the major financiers in the resource sector, and Pat is among the best in the industry. He is smart, aggressive and puts his own money on the line. And he is in his early 40's, so he still has a very long career ahead of him.
Rob McEwen: Pat is definitely on a roll. I like Pat a lot.
Marin Katusa: My last question for you is outside of the gold sector. Do you have a couple of books that you recommend that will help investors expand their horizon and that really hit you in a way that made you think to yourself, I am going to buy that book for a friend?
Rob McEwen: Sure, but I should mention one other company first: Golden Predator, which is a Yukon play as well.
Marin Katusa: Their 3 Aces sure has come out with incredible grades.
Rob McEwen: Yeah. That's right.
Rob McEwen: The first book I recommend is Shoe Dog, which is the story of Phil Knight and Nike. it is not an investment story, but it is a good depiction of building a company and the challenges that he faced while building it. When he went public, his interest in the company was worth just under $200 million, and by 2007 he was worth $10 billion.
Marin Katusa: Not a bad return.
Rob McEwen: Anyone looking to start a business or who wants to look at how businesses are built should read it. A great inspirational book that I read recently is called No Barriers, written by Eric Weihenmayer. He has climbed a number of the tallest peaks in the world, including Everest, and he recently kayaked down the Grand Canyon. What makes the story quite amazing is that he is blind.
When he got to the top of Mount Everest, the expedition leader told him to not to make it the biggest thing in his life, but to go on and do more. Erik is a tremendous inspiration to everyone.
Marin Katusa: And that's a good way to wrap up this Q&A, as I think that the gold market has much more room to run. You and I even realise that the big investment funds, pension funds, and the Sovereign wealth funds are all at their historic lows for their percent allocation towards the gold sector; if that just changes a little bit, you are going to see a massive increase in the gold sector. Rob, I look forward to seeing you at the November San Francisco Silver and Gold Summit. We are going to have a great talk there – another one-on-one Q&A. It is always a pleasure talking to you. Are there any inspirational word you would like to leave with our viewers?
Rob McEwen: A lot of people have discounted gold. We had a great run last year up until the end of the summer, and then it slowed down. If you look at gold and silver versus the Dow the S&P right now silver for the last two years has outperformed the S&P and gold has run up tide with that, so people are saying: "Hey this story isn't over yet." The dollar has gone up and gold is still increasing, and maybe we will see the dollar and gold running in the same direction at the same time.
Marin Katusa: We live in exciting times. Rob, thank you so much for your time and I look forward to catching up with you again in San Francisco in November.
Rob McEwen: Thank you, Marin.